These training sessions will build your capacity in establishing, maintaining and managing a local market on the OFN user-owned platform.
The sessions are free and offered by the Open Food Hub at Cloughjordan Community Farm, in partnership with OFN Ireland and OFN Global with support from Rethink Ireland.
Book for all sessions or individually with Eileen at
training@cloughjordancommunityfarm.ie
Please share with anyone who might benefit from attending. A recording of Session 1 will be available soon.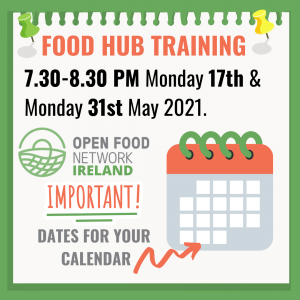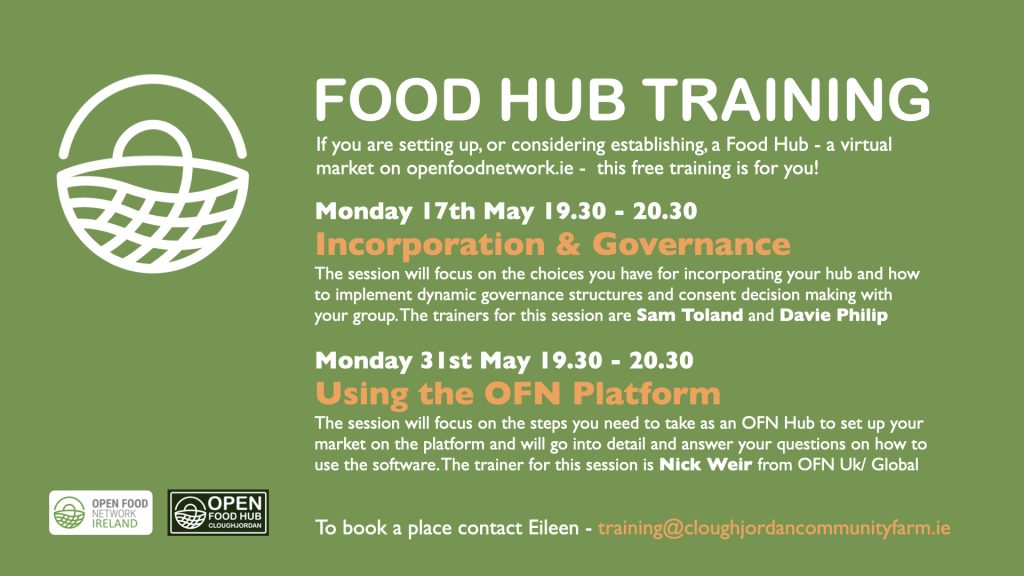 Session 2 – Monday 17th May 19.30 – 20.30
Incorporation & Governance

The session will focus on the choices available for creating a legal entity for your hub and how to implement dynamic governance structures and consent decision making with your group. The trainers for this session are Sam Toland and Davie Philip, who both sit on the Coordinating Body of OFN Ireland. In the session, there will be voices from other hubs on their experience and plenty of time for questions.
Sam is the secretary of Dublin Food Coop, he is an advocate of the cooperative approach and acts as a governance advisor to many initiatives. In this session, he will introduce different options for incorporation and the powers and responsibilities of setting up a company.
Davie Philip works with the Sustainable Ireland Coop and is the coordinator of the Open Food Hub in Cloughjordan. He will introduce Dynamic Governance or Sociocracy, a governance and decision making system favoured by community groups and coops.
Session 3 – Monday 31st May 19.30 – 20.30
Using the OFN Platform
This session will focus on the steps you need to take to set up your market on the OFN platform and will go into detail and answer your questions on how to use the software. The trainer for this session is Nick Weir from OFN Uk/ Global.
Nick Weir has worked with community food enterprises since 2001. He is a founder of Stroudco Food Hub and Stroud Community Agriculture (before helping to start OFN UK). He spent 3 years coordinating an international collaboration of online food hubs to find the best solution to their software needs. His background is in IT account management (supporting users to take on and adapt new software) and marketing.